Do you want to get rid of lines between eyebrows, forehead, around eyes? Botulinum toxin A injection will be the answer. DYSPORT™ is a prescription medicine that is injected into muscles and used to improve the look of moderate to severe frown lines between the eyebrows (glabellar lines) in adults between 18 to 65 years of age for a short period of time (temporary). Frown lines (wrinkles) happen because the muscles that control facial expression are used often (muscle tightening over and over). After DYSPORT™ is injected into the muscles that control facial expression, the medicine stops the tightening of these muscles for 4-8 months.
Here is some before & after pictures.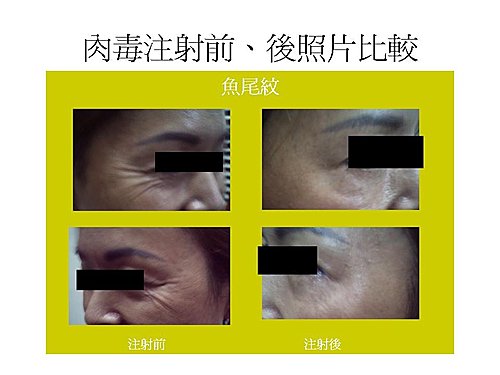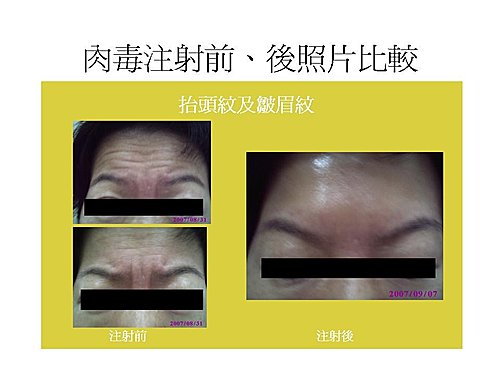 The effects will get to the peak at 4-8 weeks. Some may experience heaviness around eyebrows and eyelids, it should recover in a month.
Botulinum toxin A injection is also effective in treating hyperhidrosis and body odor.
Tell your doctor about all your medical conditions, including if you have:
•a disease that affects your muscles and nerves (such as amyotrophic lateral sclerosis [ALS or Lou Gehrig's disease], myasthenia gravis or Lambert-Eaton syndrome).
•allergies to any botulinum toxin product
•had any side effect from any botulinum toxin product in the past
•a breathing problem, such as asthma or emphysema
•swallowing problems
•bleeding problems
•diabetes
•a slow heartbeat or other problem with your heart rate or rhythm
•plans to have surgery
•had surgery on your face
•weakness of your forehead muscles (such as trouble raising your eyebrows)
•drooping eyelids
•any other change in the way your face normally looks
•are pregnant or plan to become pregnant. It is not known if DYSPORT™ can harm your unborn baby
•are breast-feeding or planning to breast-feed. It is not known if DYSPORT™ passes into breast milk
Tell your doctor about all the medicines you take, including prescription and nonprescription medicines, vitamins and herbal and other natural products. Using DYSPORT™ with certain other medicines may cause serious side effects. Do not start any new medicines while taking DYSPORT™ without talking to your doctor first.
Especially tell your doctor if you:
•have received any other botulinum toxin product in the last four months
•have received injections of botulinum toxin, such as Myobloc® (Botulinum Toxin Type B) or Botox® (Botulinum Toxin Type A) in the past; be sure your doctor knows exactly which product you received
•have recently received an antibiotic by injection
•take muscle relaxants
•take an allergy or cold medicine
•take a sleep medicine
Ask your doctor if you are not sure if your medicine is one that is listed above.